News
11.09.17
9 Moving Moments from Double Freedom Day of Eric Kelley and Ralph Lee in New Jersey
By Alicia Maule
Eric Kelley and Ralph Lee have been waiting 24 years for their freedom. In September, a New Jersey Court vacated their convictions for a 1993 felony murder and robbery based on DNA evidence identifying another suspect. After the court set a bail that the two men could make, the prosecution appealed their release and they waited, once again, to walk out of prison. On November 8th, the New Jersey Supreme Court rejected the prosecution's arguments, allowing the men to post bail. They are now free while the appeal proceeds through the courts. Yesterday they finally celebrated the momentous occasion with friends, family, and their attorneys, Vanessa Potkin of the Innocence Project and Paul Casteleiro of Centurion.
Related: The Kelley family has set up a fundraising page for Eric
Here are some highlights of their remarkable day:
1) Wearing his prison jumpsuit for the last time, Eric holds his grandson for the first time:
2) Eric Kelley and Ralph Lee breath fresh air for first time in 24 years:
Breaking: Eric Kelley and Ralph Lee taste freedom for first time in 24 years of wrongful conviction! https://t.co/hxn5mIjW61 pic.twitter.com/UrtCzNrGmJ

— Innocence Project (@innocence) November 8, 2017
"Breathing that first breath of fresh air was amazing. The trees, the scenery,"
Eric Kelley shared moments after he walked free.
Watch in full on Facebook Live.
3) Eric Kelley and Ralph Lee reunited for the first time since 1993 trial:
The men were largely separated since their arrest in 1993. They were also kept in separate prisons. This was their first time together out of shackles and out of the courtroom.
4) Eric Kelley and paralegals celebrating moments after his release
"We did it, we did it, we did it!" freedom chant. https://t.co/zhAVLWdz2U pic.twitter.com/hgsuz01GUK

— Innocence Project (@innocence) November 9, 2017
5) Four generations of Ralph Lee's family reunited:
Kayson Mccaskill, 9, grandson of Ralph Lee:
"I am happy my grandfather is home because he watches us and takes care of us now. I am excited to go places with him like swimming and shopping."
 My'ouri Thorne, 7, granddaughter of Ralph Lee
"I am happy and excited that my grandfather is home. He watched me while my mom and dad was at work."
6) Eric embraces his brother Troy and lawyer Vanessa Potkin:
7) Kelley family enjoys first meal together at La Riviera Trattoria:
Eric, who is mostly vegan, chose eggplant parmesan for his first meal.
8) Eric Facetimes with Barry Scheck:
9) Kelley family awaits their first Thanksgiving together: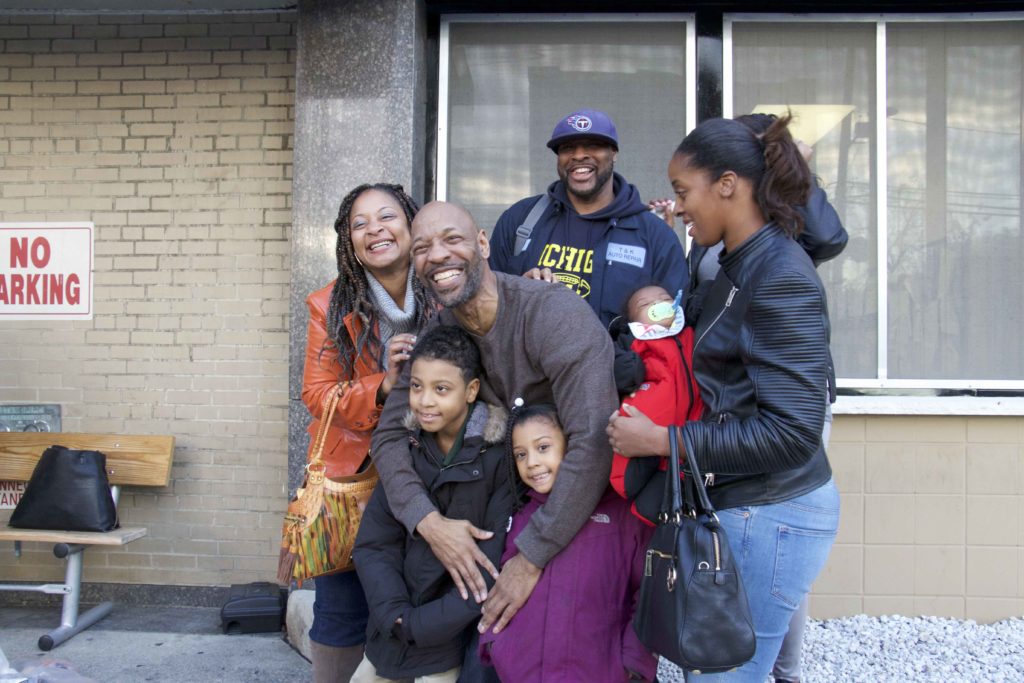 Raymond Santana, survivor of wrongful conviction, has launched a clothing line, Park Madison NYC, inspired by the streets he lived on growing up in Harlem, New York.
News
01.19.18
Today, the Nebraska Lincoln Journal Star published an article calling attention to a bill in the state legislature addressing safeguards against unreliable jailhouse informant testimony.
News
01.17.18
Robert Jones, of New Orleans, spent over 23 years in prison for crimes he didn't commit.
News
01.16.18
Thank you for your Comment.
For help on DNA-related innocence claims head to our FAQ section or for a non-DNA related innocence claim find a local innocence network organization near you.